Dear Visitor,
It has been among the main economic and social policy objectives of the Government to increase employment and investment, and to improve the competitiveness of the Hungarian economy. 
Therefore, as Hungary's Minister for National Economy I want to express appreciation for those business organizations which have assumed a significant role in boosting the Hungarian economy, stand as role models for other enterprises through their activities and which represent that innovative and inventive spirit that has been Hungary's distinctive strength.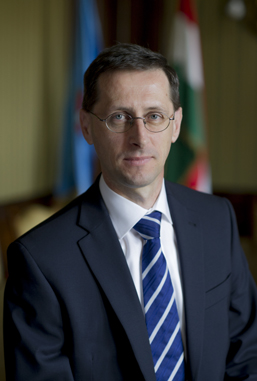 The measures which have been hitherto introduced by the Government amply show our commitment to assisting the development of enterprises, organizing a favourable business environment and supporting the creation of jobs. In our times, innovation is the growth engine driving hiring and economic growth; therefore the Government places special emphasis on increasing resources which are available for this goal. As a result of this attitude, R&D spending in Hungary has been continuously increasing and it was higher already in 2011 than it had been at any given time in the preceding two decades.
Several facts are proving that the Government has been successful in harmonizing subsidy policy with the efforts of business organizations. From among these, it may suffice to point out that the country has regained fiscal independence, we have exited the excessive deficit procedure, economic output has been on the rise and the number of people in employment is 170 thousand more in Hungary than it was three years ago. 
However, we can only retain and improve these results if the country's competitiveness continues to strengthen and employment grows simultaneously. 
And one of the preconditions of realizing these goals is nothing else than the existence of successful, ambitious and energetic enterprises. 
That is why I have decided that through the newly established three awards I will in each month draw attention to those business organizations, SMEs as well as recently founded companies or start-ups which symbolize opportunities arising from the realization of the common goals of the state and private enterprises.
I also want to highlight the social role of successful enterprises by presenting outstanding practices which are worth to follow and may serve as role models for creating prosperous companies.
The presentation of these awards aims to send a message for those who significantly contribute to the success of the country that they can rely on the Government's gratitude, appreciation and support.
We are seeking and honouring those initiatives all over Hungary which through their strong business performance are contributing to employment growth, the increase of exports and the improvement of competitiveness by producing goods of high added value. 
The Hungarian Government has appreciated and will continue to appreciate the private sector. Whenever we make a decision – let it be with regard to the improvement of their financial position, the expansion of development opportunities or the cutting of red tape -- we are guided by the recognition that we can achieve lasting results only by mutually understanding and supporting each other.
With kind regards,
Mihály Varga